Excellent Job Vacancies in Five Stars Hotel Chain in KSA  
---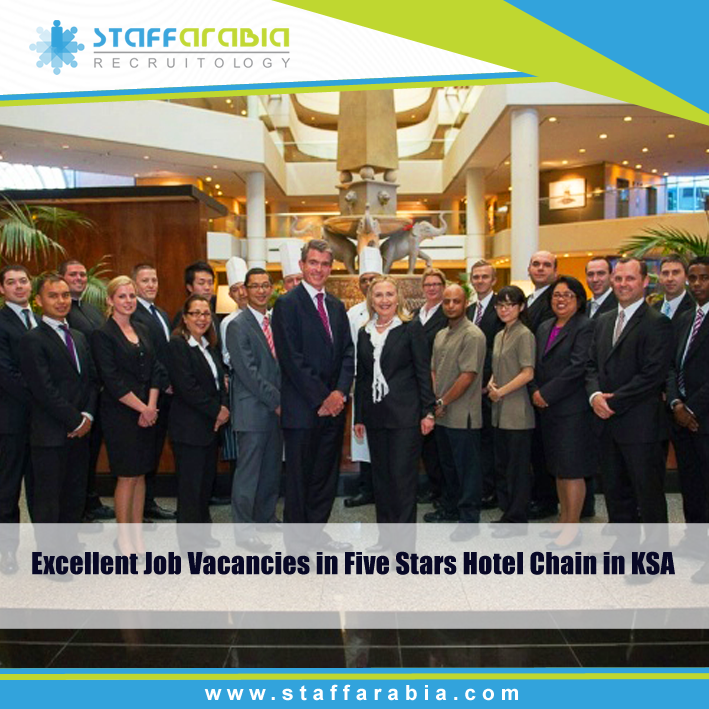 Excellent Job Vacancies in Five Stars Hotel Chain in KSA
One of the Most Distinguished Five Stars Hotel Chain already existing in Dubai, Athens and KSA, is Now seeking to fulfill its pre-opening vacancies in its Newest branch in Saudi Arabia.
Pre-opening Required Jobs:
1- F&B Department
• Food and Beverage Manager (Lebanese Only)
• Food and Beverage Supervisor All Day Dinning (Lebanese Only)
• Asst. Catering & Events Manager
• Banquet & Conference Supervisor
• Restaurant Supervisor (Lebanese Only)
• Waiters
• Room Service Order Taker
• Shisha Maker
2- Kitchen Department: (Egyptian / Moroccan / Lebanese Cuisine)
• Sous Chef (Lebanese Only)
• Pastry Sous Chef
• Commissary chef - sous chef level (receiving, storing & Boutchery)
• Junior Sous Chef ( Banquet / Main kitchen)
• Chef De Partie (NAY / Hot, Cold and Grill )
• Demi Chef De Partie (Banquet &Pastry)
• Commis 1
3- Sales & Marketing Department:
• Sales Manager
• Sales Executive /Coordinator
4- Executive Office:
• General Manager (Lebanese Only)
5- HR Department:
• Training Officer
6- Front Office Department:
• Front Office Supervisor
7- Concierge Department:
• Concierge Supervisor / Bell Captain
• Bell Attendant
8- Spa Department:
• Spa/Recreation Supervisor
• Spa Therapist
9- Security Department:
• Asst. Security Supervisor
The Benefits Provided:
Accommodation
Transportation
Meals
Laundry
Medical Insurance
Joining Ticket
Visa
Annual Leave Ticket
Nationalities Required* : Egyptians, Lebanese and Moroccans
Interested candidates with previous experience in similar positions in 5 Stars Hotel Only are welcome to send their C.Vs on: cv@staffarabia.com while it is a MUST mentioning the job title in the subject line.
For more information you can call us on the numbers below:
LANDLINE: +20 237 61 7666 | +20 237 61 6667
MOBILE: +20 1000438780 (Whatsapp Available)
+20 1000454898
Or you are welcome to Apply us in our Headquarter in the address below:
80 Mosadek St. Intersection with Mohy El Din Abou El Ezz St., Dokki,Cairo | Egypt
11th Floor, Office 901
Landmark: Above HSBC Bank
Opening time : 10:00 AM – 5:00 PM