5 Ways to Keep Your Career Goals Moving Forward
---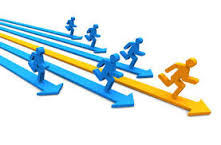 According to a recent survey of more than 3,000 workers, 30 percent of survey respondents said they are regularly searching for job opportunities, and 16 percent are determined to land a new job within the next 12 months. Among the 18- to 34-year-old demographic, one out of four plans to snag a job by year-end.
Let's take a deeper dive into the resolutions themselves to tackle them with grace, ease and, of course, perseverance.
1. Job stability. Per the survey, 65 percent of respondents are looking for job stability.
Your action plan to achieve it: As you conduct your own search, thoroughly research prospective employers. While no amount of research can predict whether a job is stable, if you do enough digging, you can at least make an educated assumption.
Here are some questions to explore: Was the company recently acquired? Why is the specific position open and available? Is it due to expansion? Is it due to high turnover? How long did the last person hold that position? Does the company have an outsourcing team located in another country or another U.S. city? Just some food for thought.
2. Be less stressed. That is, 34 percent of survey participants strive for a more peaceful year. Om.
Your action plan: Make meditation and/or visualization part of your daily routine, even if it's as simple as waking up 10 minutes earlier each day. Figure out how to maximize your commute by perhaps listening to guided meditations or relaxing music. This category also spills into self-care in terms of the amount of sleep you're getting as well as nutrition and exercise.
3. Eat healthier at work. Losing weight is typically among Americans' top resolutions, so it's no surprise that a significant number of survey respondents revealed this as one of their top five priorities at work.
Your action plan: Bring bagged lunches to the office (this will likely slim down your spending as well as caloric intake). Avoid the snack machine by keeping healthy snacks like almonds or fruit in your desk drawer. Enlist an accountability partner – someone at work who is on the same journey – and call each other out if you're chomping on leftover conference room bagels (don't they always seem somewhat stale, anyway?).
If you work from home, fill cupboards with healthy food, and drink plenty of water. At least you won't be tempted by leftover food at the office, but you'll need to muscle up a different type of discipline when you're at home. Let's face it: No one can really spot you eating a Snickers bar. Be accountable to yourself, and keep a food diary.
4. Get a raise or promotion. Approximately one out of four survey recipients aims for this in 2015.
Action plan: Make yourself more visible. For starters, rely on personal branding internally by speaking up at meetings, tooting your own horn and volunteering to attend meetings that your boss typically attends. Raise that hand!
Make it known to your boss that you're aiming to move ahead this year, and schedule a meeting to sit down and outline how to make this happen. What are the specific steps you need to take? What is the anticipated time frame?
If the meeting doesn't turn out quite as planned, and the company has a limited budget and limited room for growth, congratulations! This conversation just served as your open door to get a raise. Externally.
5. Learn something new. Variety is the spice of life, right? Twenty-two percent of survey participants ranked this on their list of must-haves. Whether it's a matter of taking more courses, becoming skilled in training or attending seminars, it's all good.
Action plan: Explore available training within your company as well as the cost. Then, scout out external training and seminars. Finally, once you've gathered the information, meet with your boss to get approval and sign up. Here's the kicker: This will only help build your arsenal for professional growth.
Don't limit it just to professional development even if it's free. Sure, it's fun to check out a local Toastmasters meeting, but why not explore a painting class or take tap dancing lessons?
Even non-work-related activities can boost your endorphins and help you think clearer on the job. And, of course, these outside-the-cubicle activities always lend themselves well to – you guessed it – networking.