Egypt signs agreement with UAE to build new capital east of Cairo
---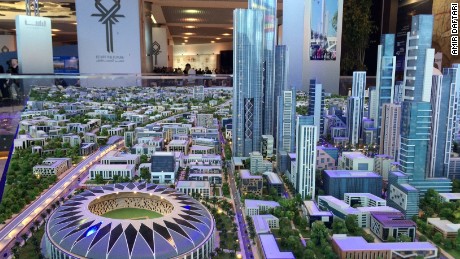 Egypt signed on Saturday an agreement worth 45 billion U.S. dollars with the United Arab Emirates (UAE) to build the country's new administrative business capital, APA reports quoting Xinhua.
Egyptian President Abdel-Fattah al-Sisi and Vice President and Prime Minister of the UAE Sheikh Mohammed bin Rashed al-Maktoum witnessed the signing of the agreement.
The signing ceremony took place in the Red Sea resort city Sharm el-Sheikh which hosts three-day economic meeting to boost and develop the North African country's ailing economy.
Both leaders listened to the explanation of Egyptian Housing Minister Mostafa Madbouly on the project of the new 70,000 acre capital which will be established to the east of Cairo.
The minister said the first phase involves a downtown city, administrative towers and hotels along with commercial areas and a stadium.
The other part of the city will group governmental premises of presidential palaces, a cabinet and various ministries, he added.
"The governmental district will involve a complex for foreign embassies and a big expo," Madbouly further explained.
The economic conference, which was called for by Saudi Arabia last year, is meant to attract billions of dollars in foreign investment over the planned four-year period to help improve the already staggering economy of Egypt.