Two More Successful Recruitment Campaigns for McDonald's Saudi Arabia in Sri-Lanka & Tunisia
---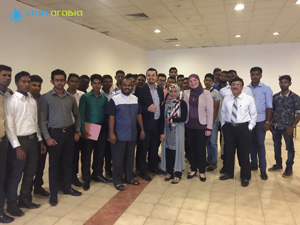 With about 100 accepted applicants, Staff Arabia finished its latest campaigns in Sri-Lanka for McDonald's Saudi Arabia.
This latest assignment lasted for 5 days covering most of Sri-Lanka's major cities; Colombo (the capital) where the campaign lasted for 2 days, then Kandy, Kalmunai and Kurunagela.
On the other hand, Tunisia assignment for hiring senior levels finished with a resounding success. About 60 applicants were selected to be joining McDonald's branches which cover all of KSA and be part of this international empire.
Through the next couple of months, Staff Arabia will continue its hard work and conduct more campaigns in Morocco, Uganda and Ghana, then Tunisia & Sri-Lanka again.