1000+ Hires in 2016 by Staff Arabia
---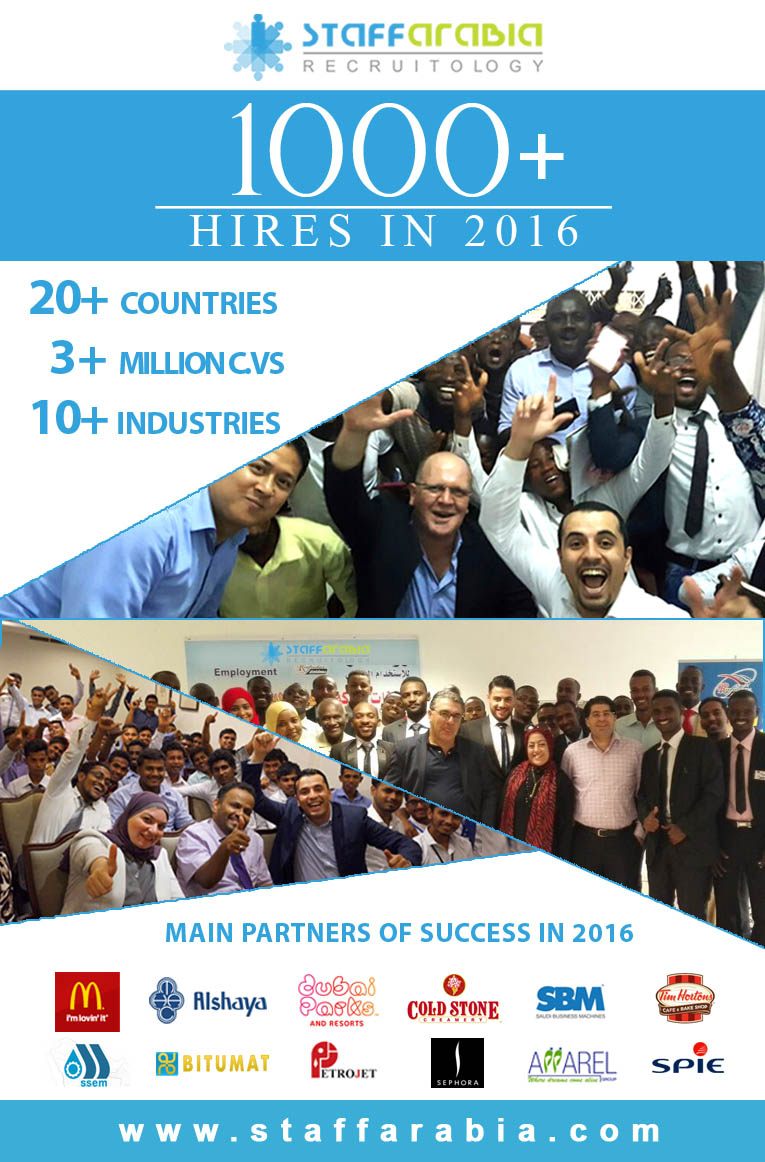 Staff Arabia celebrates achieving 1000 plus hires while coming to the end of 4th quarter of 2016.
Overseas Recruitment department has handled the Sourcing & Recruitment activities & interviews that took place in 13 different destinations/countries through ; Egypt, Morocco, Iraq, Lebanon, Tunisia, Sudan, Ghana, Uganda, Kenya, Nepal, Sri-Lanka, Syria & Algeria.
Massive recruitment campaigns were conducted through above recruitment destinations around the clock to meet our clients' targeted staffing plans.
Exactly 1285 vacancy were filled from semi-skilled, Skilled, junior to senior positions after being screened, shortlisted, interviewed and selected to join their new roles with our clients all over UAE , Saudi Arabia , Qatar , Iraq , Kuwait , Algeria & Egypt .
Staff Arabia through its head office in Cairo and through its offices around the region managed to handle both local & overseas recruitment campaigns and manpower planning according to visa quota & manpower availability in required destinations. Our One Stop Shop Recruitment approach has assisted our clients to achieve their staffing plans within required time frame and quality while relieving them from the hassle of all the preparations, logistics & deployment of such large recruitment operations.
With a data base & network reaching up to 5 million CV'S & Candidates, Staff Arabia covers more than 10 industries , from Retail to FMCG, Hospitality, Oil & Gas, Engineering, Construction, Power & Energy ,IT, etc.
Staff Arabia , is a leading Recruitment , Staffing, Manpower Supply & Outsourcing Service provider with strong financial & technical capabilities operating in the region since 18 years.
Staff Arabia takes this opportunity to deeply thank our clients & partners in 2016 for all their trust, cooperation and support…..and looking forward to a successful coming 2017.